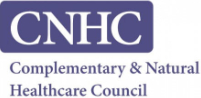 The Complementary & Natural Healthcare Council (CNHC)
CNHC is the UK voluntary regulator for complementary healthcare practitioners, set up with government support to protect the public by providing a UK voluntary register of complementary therapists.
CNHC's register has been approved as an Accredited Register by the Professional Standards Authority for Health and Social Care. This means CNHC has met the Professional Standards Authority's demanding standards. All CNHC registered practitioners are entitled to use CNHC's quality mark which demonstrates a commitment to professionalism and high standards. The public and those who commission the services of complementary healthcare practitioners can choose with confidence, by looking for the CNHC quality mark.
To find out more about the CNHC email info@cnhc.org.uk, call 020 3668 0406, or visit www.cnhc.org.uk
CNHC Registration
The Bowen Association (BAUK) is authorised by the CNHC to validate applications for CNHC registration.
Members of BAUK.
Full Members of the Bowen Association can find instructions on how to apply for CNHC registration in the Members' area.
Non-Members
If you are a Bowen practitioner and not a member of a professional association and wish to register with the CNHC you may do so via the Bowen Association UK (BAUK). There is an administration fee of £15 for this service. Applications are validated, subject to the appropriate documentation and qualification.
You will need the following:
print off and complete the Request to Register form .
a copy of your Bowen Certificate of Proficiency. CNHC accepts these from Bowen Training UK, Bowtech and the College of Bowen Studies.
if you qualified more than a year ago, evidence of at least 2 days of approved CPD Bowen training.
a copy of your Anatomy & Physiology Certificate.
a copy of your Professional Indemnity Insurance, with a minimum cover of £2million.
cheque payable to Bowen Association UK for £15.
You can send soft copy versions of the form and certificates to office@bowen-technique.co.uk or send hard copy, together with your cheque to:
The Bowen Association UK, PO Box 210, Boston PE21 1DD
You can also pay online:
HSBC Bank
Sort code 40 28 24
Account 81286447.
PLEASE ENSURE YOU REFERENCE YOUR NAME SO WE CAN MATCH PAYMENT TO YOUR APPLICATION.
We will check that your information meets the standards for admission to the register and will then submit this information to the CNHC administration office for you.
If you wish to join the Bowen Association UK prior to applying to the CNHC please complete the membership application form. BAUK will complete the validation process for your CNHC application for you once your membership has been processed. As a member of BAUK you will then save the £15 administration fee.
Once your application has been validated you will receive an email from CNHC confirming your validity and inviting you to register via the CNHC website. The online annual registration fee is £70. The fee for additional disciplines is £10 each, up to 4, thereafter it is free.